Christian hard rockers STRYPER's forthcoming album, "Even The Devil Believes" will be released on September 4th via Frontiers Music Srl. Filled with the band's signature riffs, harmony-laden melodies and positive themes, the 11-track project is STRYPER's first studio album with Perry Richardson (FIREHOUSE) on bass and background vocals. Most of the recording sessions for STRYPER's new LP took place at SpiritHouse Recording Studios in Northampton, Massachusetts with engineer Danny Bernini.
"We're incredibly happy to write a new chapter in the book of STRYPER," says vocalist/guitarist Michael Sweet, who has served as the band's primary songwriter since its inception in 1983. "This album was recorded during the pandemic, and I believe the message pertains to the times we are living in so perfectly. It's a recording of hope and inspiration and a light in the darkest of times."


Sweet, who also produced the new album, revealed that the band members delivered focused determination, a collaborative spirit and spot-on execution for the new record. The result is a collection of remarkable songs that will leave a strong impact on listeners. Standout tracks include "Blood From Above", "Make Love Great Again", "Do Unto Others", "How To Fly", "Divider" and the heart-stirring ballad "This I Pray". It has an energy unlike any other album we've done," he asserts. "We even pulled a song from the past that has never been heard or released, and by doing so we brought a little bit of 1989 back into the mix. The music and lyrics are rock-solid. God really blessed this one and hopefully it will bless everyone who hears it as well."
Contributor Jorge Pozo once again spoke to Michael Sweet to unveil as much information as possible regarding the creative process behind "Even The Devil Believes". Check out the transcript of their spirited conversation below, and don't forget to follow Sonic Perspectives on Facebook, Flipboard and Twitter and subscribe to our YouTube channel to be notified about new interviews and contents we publish on a daily basis.
INTERVIEW TRANSCRIPT
Can you talk a little about the vision you had going into this album and maybe how you wanted it to be different from other Stryper records?
As a producer and a writer, it's important to always accommodate the fans. You know, I put stuff up on social media all the time and I ask the fans questions. What do you want to hear? What do you want? What do you miss? What do you think we should do? Should we do this? I like getting feedback from the fans. Therefore, I know that overwhelmingly over the past 10 years, a lot of fans have stressed that they want to hear some flavors of the past, from the '80s, but without sounding dated. And that's what we try to do with every album. We try to take you on a journey back to the '80s, but we also try to incorporate some modern flavors and tones and styles throughout the process as well. We try to merge the past with the present. We're not a modern band. We don't try to be, but at the same time, it's important to have albums coming out in 2020 that sound relevant in our times right now
Do you think that you accomplished what you aimed for with "Even the Devil Believes"?
I think so. I really do. I've been talking the album up as a metal album and it is, but it's also a very melodic album, got a lot of melodies and vocals and that's very important to us as well. And that's our past. Go back and listen to the old Stryper albums. There was always a lot of vocals, a lot of melodies going on, and we really incorporated a lot of that into the new album.
Can you elaborate about the album title?
Well, it's kind of a double-edged sword. It's got the meaning that I think most people will think of. And that is the Devil was an archangel that was created by God in Heaven. And he rebelled against God, became prideful, wanted to take over Heaven and was kicked out of Heaven and became Satan. Consequently, the Devil knows everything from the very beginning when everything was brought into creation and he knows what's going to happen. So that's what I meant when I wrote that lyric that Even the Devil Believes: he knows that there's a God. He knows that God is basically on the throne. He knows that God's in charge. He believes he just doesn't abide by that or follow that, but he believes. And it also states in the Bible that every knee shall bow–including the Devil.
And then the other meaning is, it's much more about being a Christian than just saying that you are or quoting scriptures. You have to actually show that you are, your lifestyle has to line up with what you're saying. Otherwise your words mean nothing. So, it's got a double meaning to it, but it's a very powerful, lyric, very powerful title. And it says a lot.
I've only heard the two singles before this interview. What can a long-time fan like me expect from the album?
Well, it's, it's got a little bit of everything for you. The people that like the lighter side, it's got some material on there for them – "This I Pray, How to Fly". Even songs like "Invitation Only", which is an old song from the '80s, believe it or not. I wrote that song in 1989 and we brought it back out again, 'cause it never got finished and put on an album. So there's the lighter side. And then there's the edgier side with songs like "Blood from Above", "Do Unto Others". We shot a video recently for that song. There's something for everyone on this album. It's very eclectic but yet it all works
I was scratching my head when I was reading the press release thinking, "Which is the 80's song that Michael recorded now?"
It's called "Invitation Only". And it's got a very '80s sound to it. And we almost purposely took it more in that direction 'cause we wanted it to, purposely and specifically, sound '80s. I think when people hear it, they're going to love it. Especially those people that have been longing for something more '80s on a Stryper album. They're going to get it with that song in particular.
I can't wait to hear it myself. This is your first studio album with Perry Richardson on bass and background vocals. How did he fit in with the band?
Oh, it was amazing. This is the first album with Perry, officially. And he fit in so well, not only his bass playing and his vocals, but just his spirit and hanging out, having fun in the studio. And we had a blast, man. We had more fun making this album probably than we did making any album in the history of the band. So, it was really a great experience and we got it done. You know, we started work on it right when the pandemic started kicking in and we were nervous, but we were able to get it finished before the lockdowns. If the quarantine had happened when we started making the album, we probably would've had to postpone it.
We definitely are living in crazy times.
But you know, it doesn't stop Stryper, I mean, we were able to get the album done. It's coming out September 4th (through Frontiers Records). We're doing a lot of other things. We're recording some live-on-demand shows in the next few weeks. We got an acoustic album we're going to release some time next year, and we're going to start on a new album, probably the end of next year, beginning of the following year. So, there's a lot of plans over the next few years for a lot of different things regarding Stryper.
That's awesome. "Blood from Above" was the first single and it definitely carries the Stryper DNA. Tell us about that song and the choice of it as a single.
It's a very powerful song. Up-tempo, high energy, it really kind of kicks you in the gut. It's got some guts, some juice to it, and it's a tough song to play, too, to play it really tight and especially live. It's powerful lyrically. It says so much. And I think it was a perfect song to release as the first single because it really set the bar and set the tone regarding the album itself.
"Make Love Great Again" was dropped a few days ago. What's the reaction so far?
Yeah, that's been amazing too. Some people want us to stay away from politics. They assume we purposely meant for this one to be politically charged, and it's not. We just wanted to remind people that love is the answer and we really do need to make love great again. Love isn't doing well. In many cases, we're seeing a lot of terrible things take place in the world. It's important for us to always put love first. And when we step out into life every day from our front doors, we need to apply that with anyone we come in contact with. Make sure you take the high road, let love rule, make love great again. It's so important.
I'm curious about the title of the song "Middle Finger Messiah".
It's basically about how the world flips off God in many cases. It might not be the lyric that everyone expects. I think the title makes people curious, but then when they read the lyrics, it might be like, nah, that wasn't what I expected. But it's really a straight-ahead rock metal song, that is just discussing about how we don't want to have anything to do with God.
It sounds like this record was a special experience.
Oh man. We just were able to go in and do our 13th album, which was a miracle, with Perry which made it really special. And you know, the fact that we're still here, do we want, we love making albums that are really important in the catalog. You know, they're not just throw out albums. They're not just wasted space or just thrown together cutting corners. They're actually really good albums. We're turning out some of our best work, I believe, over the past six, seven, eight years. And that's a big deal for us. It really is. We feel that these albums hold their own against any of the albums of the past. You know, all the fan favorites "To Hell with The Devil", "Soldiers Under Command". These albums are, these new albums, "No More Hell to Pay", "Fallen", "God Damn Evil" and now "Even the Devil Believes", they're just as strong as the others.
That's exciting!
Yeah, it's right up there and we can't wait for everyone to hear the whole album in its entirety from start to finish. You get those fans on occasion that you just can't please them, no matter what you do or how you do it or how good it is. They're always going to say, "It's not as good as "To Hell with The Devil", I don't like it as much." You're never going to please them. But we're confident in the fact that we've outdone all those albums in the past, starting with "No More Hell to Pay" and then moving right forward to "Even the Devil Believes". We're very confident in what we're doing right now. We're very pleased with what we're doing for the past four albums, especially. And it feels really good. It really does.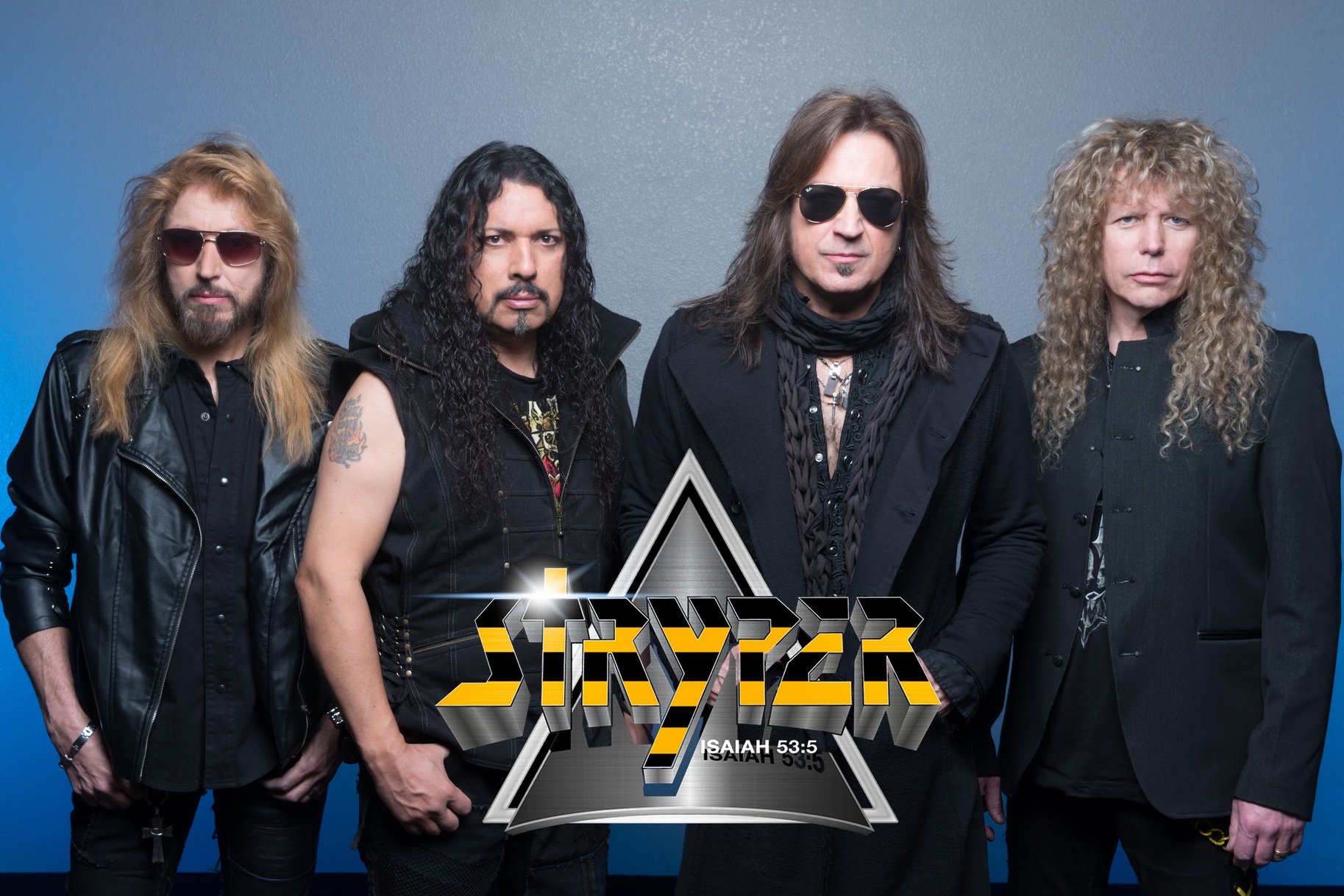 You have evolved tremendously as a songwriter through all these years. What's your secret?
Well, I love to write. I get excited about writing, and hopefully that shows when you hear a Michael Sweet song. Hopefully people can see and hear that I love to do it. And I love to inspire people and give them a melody that they can remember or sing along to. and I still enjoy it. And I don't think that's ever going to change, to be honest.
You've done 13 studio albums if we count the covers album "The Covering". Does inspiration still come naturally to you? What do you do to keep things fresh?
We spread it out every few years for an album release. It helps us to clear our heads and kind of recharge and start on the next one. You know, if we were doing this every six month or even every year, we might not have the time to recharge and, keep that level of excitement. But the way we do it, it seems to work really well. And then in between, I do solo albums and other projects.
Being a Christian band is a double-edged sword. You may attract people because of your lyrical content, but you might also repel some for the same reason. Have you guys considered going "Against the Law" again?
It's true whenever you make a stand for something, and really not just religion. We've stood for 36 years for God and everybody knows where we stand. And when you do something like that, you're going to have people that love what you do and support you. And you're going to have people that hate what you do. It always kind of surprises us and blows our mind because God is love, and all that we offer through our lyrics is God's love. For someone to hate that or despise that is interesting. There's something that might've happened to them that created a lot of hate and resentment. And they're just not happy people. When you sit down and talk to these people, one-on-one, you get to the root of the problem and you realize that something happened to them that made them that way. But that being said, it doesn't stop us from doing what we do. You know, we're always going to deliver this message until we're not here any longer. And hopefully in the history of rock and roll and metal, people will look back on Stryper and say, well, they stuck to their guns. They never wavered. And you know, you have to respect that.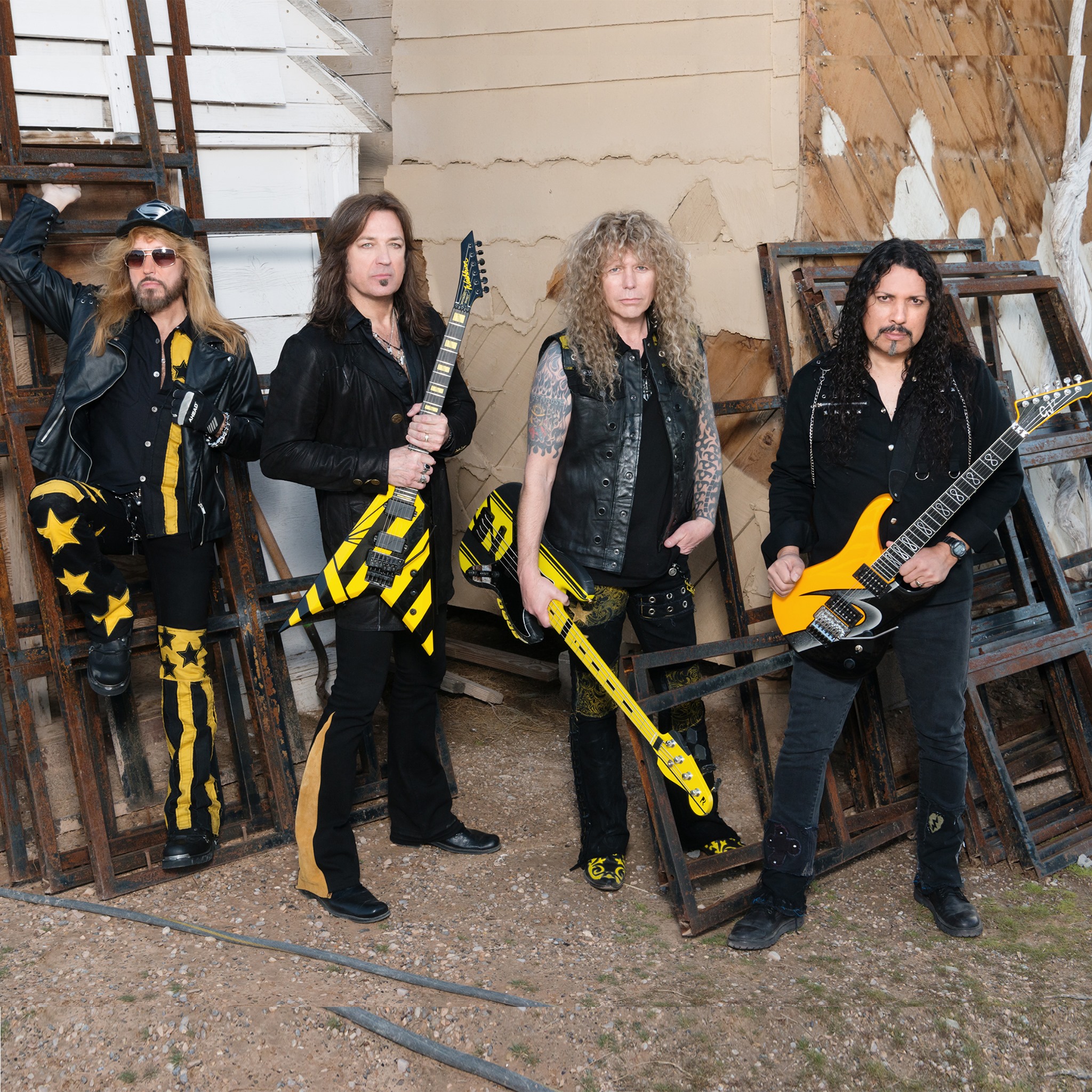 After all these years, does Isaiah 53:5 (the Bible verse in your logo) still speak to you?
Oh yeah. Absolutely. Yeah, because it says so much with such a short little sentence—that by his stripes, we are healed. So, everything that Christ went through on the cross, dying for the world, and rising from the dead. And by that, we are healed. That says it all.
What parts of your personality do you put into your music?
I think my energy, I'm a very energetic guy. I'm always going, always moving. I got titled the Tigger when I was with Boston. And it's because I've got a lot of energy. I'm always racing around, running around, jumping around. I think that is what translates over to my music the most.
What's the band's next big milestone?
In three years, it's going to be the 40 year anniversary of the band and, that's a pretty big deal. Members come and go, but the brand name has been going for that long. And that's really remarkable.
Hopefully, for the 40th year anniversary, you will find the way make it to Lima, Peru.
You know what? That would be phenomenal.
Talking about touring – are there any discussions with promoters at all at this point?
Plans to tour right now? No. I mean, we had some shows on the calendar this year, quite a few, and we had to postpone them and then postpone them and then eventually they got canceled. And I'm guessing there's not going to be any shows this year. We are doing a couple of virtual-on-demand shows, and that's going to be available for everyone to watch in the next maybe eight, nine, 10 weeks. We're going to do the new album ("Even The Devil Believes") in its entirety and we're doing "To Hell With the Devil" in its entirety.
I was about to ask you how you and your family are handling the social distancing thing and how are you coping with it with this whole situation?
Well, we try to do our part to be smart and wearing masks and washing our hands and distancing ourselves and just doing all the things that we need to be doing to help the problem instead of making the problem worse. But at the same time, we're still living. We still go out. We went out to dinner last night, the band, me and Lisa and we sat at a table and we had a nice meal. We're still trying to enjoy life, but at the same time be smart doing so.
Michael, did you read what Spotify CEO Daniel Ek said, that "Artists can't record music every three or four years and think that's going to be enough"? What's your take on that?
I think artists should do whatever they feel led to do. And if that's every year or if that's every 10 years, it's not his place to tell artists what to do. And unfortunately, he's in a position right now where he's captaining the ship. Spotify is pretty much the leading way for music to be heard and be streamed–and artists, as you know, make very little money from all the streaming. The labels are making a little more money, but this guy's getting rich, becoming a multi-millionaire if not a billionaire. And then he's telling artists how to do things and what they need to do. It's just kind of hypocritical and comical.
I can't wait until the day comes till Spotify is no more. I'd love to see that day. I'd love to see streaming music be done away with, and for it to get back to some sort of hard copy, whether it's vinyl or CDs again. Because that's the fair way to do things. That's when the artist who is working so hard to create the music is compensated properly.
Michael is there anything that you can say about Oz Fox's health? How's he doing?
Well, he's doing good. He's been on a diet and trying to eat better and stay in shape and trying different things to get better. And we're all praying for him and believe in the best. I really think that he's going to get through it, I really do. We're here for him. We're waiting for him, whatever it takes and when he's better, we'll proceed, you know, with whatever it is we're going to do. So we appreciate everybody's prayers out there for sure.
I know you are a believer, you believe in forgiveness, repentance, all that. And I just wanted to ask if you've had the chance to work things out with your former bass player, Tim Gaines?
We haven't. It's one of those situations where we've kind of moved on. It's not that we're not willing to. We have a new bass player. Everything's great. We wish him nothing but the best. And I'm sure he's moved on as well. So, there's not really anything to work out. We just kind of went our separate ways. And it's almost like a marriage; if it doesn't work out and you go your separate ways and then you remarry, you move on, new law, new lives, new, new situation, new things going on.
We're very happy to have Perry in the band. Perry's brought a lot of peace to the band, like fresh air and it feels exciting. We almost feel like we're kids, to get back to the old days, it's got that same level of excitement, which is really cool. It's long overdue. We needed that.
Well, is there anything that we haven't discussed that you would like to say to our audience?
Well, I just want to tell everybody out there listening. We're so thankful for you. Thanks for always supporting us. Thanks for always being there for us. We're so sorry that we haven't been able to come and perform for you as often as we would like, but that day's going to come very soon where we will be there again and we'll be performing and it'll be an amazing day and an amazing time. So God bless everybody. Stay safe, stay healthy. We love you. And we'll see you soon.
Thank you very much for your time, Michael. Thank you very much for allowing the interview.
You too, my friend, God bless you, man. Thanks for your time. And you stay well and we will see you soon, brother. Okay?
Okay. Thank you. Take care.